The historic little enclave of Eldorado, once famous for it gold and tin mining (from the 1850s to the 1950s), was the chosen venue for this 12km loop walk.
In its heyday, the town had a series of suburbs, with Napoleon Flat, Sebastopol Flat and Woolshed Valley giving an overall population of about 7000.
The village grew up around the pastoral property 'Eldorado' founded by retired Captain William Baker of the Royal Navy.
There were eight participants on this little adventure, taking in historic sites near Eldorado, and between Eldorado and Woolshed Falls.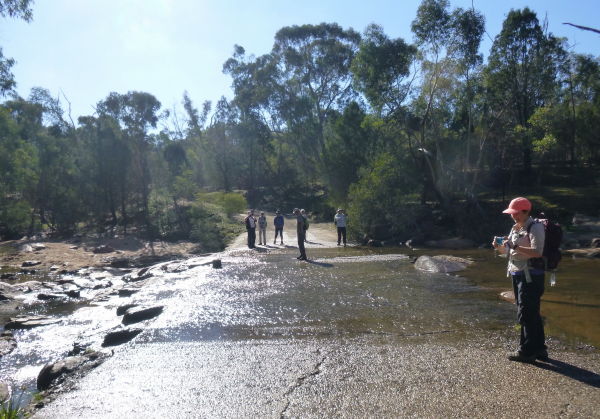 Starting at the Wombat Mine, we walked to the Chinese Gardens (once a market gardening area), then Napoleon Flat (previously a major mining township), Kangaroo Crossing (a timber bridge which burnt down in the early 1900s), a Miners slab hut, the Chinese Diggings, Buttreys Rock (named after a bushranger) then the Reidford Hotel (burnt down in 1899) and the public swimming baths.
The walk returned via a very good dirt road.
The signage was excellent for the historic sites, and the map used was from the Woolshed Valley Interpretive Trail.
See eldorado.org.au/wp-content/uploads/woolshed-valley-tour.pdf for more details of this area.