Todays walk at Wandiligong had 13 participants enjoying a fine day, following the popular Wandi Walk from Bright to Wandiligong.
We started near the bridge over Morses Creek, on Coronation Avenue, and followed the track alongside the creek to Alpine Park where we caught up with Kerri and Paul, their daughter Elise, her hubby Daniel and their son Mitchell at the playground, and had morning tea at this spot.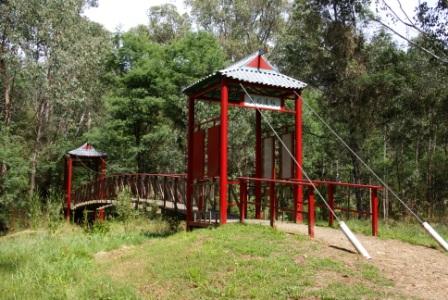 We continued onto the diggings, Chinese Bridge and the Junction Mine before having lunch at the Lardis picnic area.
We then continued past The Adit, before returning via the Bennetts Trail to the start of the walk. All the tracks follow, and cross, Morses Creek and Growlers Creek in the diggings area.
The day was fine, and didn't feel as cold as expected, I think we were sheltered from the cold wind which was noticeable on our return to Wangaratta.
A great day was had by all. [Jeannette and June]