This interesting walk covered a variety of tracks from Beechworth's Lake Sambell, through to Lake Kerferd, and return.
Lake Sambell is a flooded remnant from the gold mining era, whereas Lake Kerferd forms a major part of Beechworth's water supply. It was named after prominent local George Kerferd who first advocated this site. The dam was declared operational in 1874, and Kerferd went on to become mayor of Beechworth three times, a member of the Victorian Parliament for many years, and subsequently Premier of Victoria in 1874.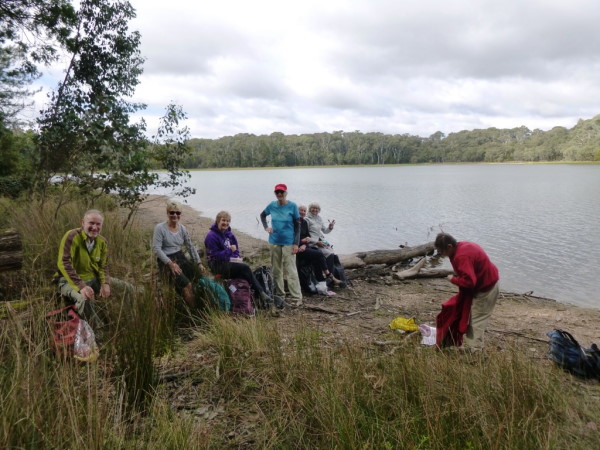 As well as ensuring that his home town established a secure water supply, Kerferd was also to ensure that Beechworth got a railway connection to the main Melbourne – Sydney Line.
There were eight walkers on this 15.5km adventure, and having made it to Lake Kerferd via Pipeline Track, we crossed over the spillway to the opposite side of the Lake. We then looped around this scenic waterway, and returned to Lake Sambell by the better known Kerferd Track, as well as some lesser known side tracks.
Many relics from the gold mining era where checked out on both routes, and we had plenty of interest on this fine, but cool, day.
Morning tea was held beside the Pipeline Track; lunch was at Lake Kerferd, and afternoon tea was back at Lake Sambell.
[Lesley]