We had 13 members participate in today's walk in overcast weather, following a lot of rain the previous night. Not so much that the creeks and water courses were running, but all was damp and clean and fresh, a welcome change from dry and dusty.
Starting and finishing an eight kilometre loop walk from Booths Taminick Cellars, and Black Dog Brewery, we began with the Warby Heritage Falls Trail which featured an old spot mill, a sheep wash in the paddock over the fence from the track, and stone walls for the weirs, with spillway and pipes still in place (we could see the water race features on the ground).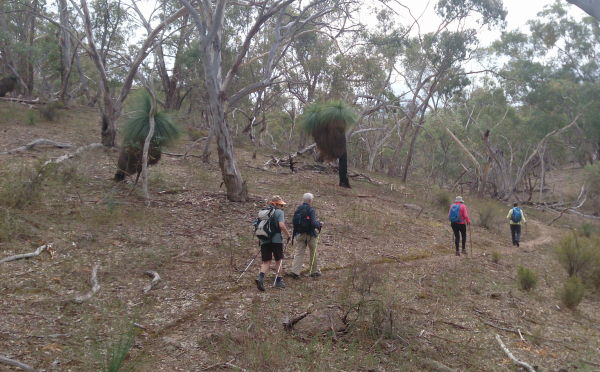 The walk is well sign-posted, with storyboards, and images, of how it worked after construction back in the 1850s.
The major waterfall of the walk didn't quite have a trickle falling over it, but there were some pools of water among the rocks from the previous nights rainfall. I'm sure it looked great last night when the rain was falling.
Morning Tea, complete with easter eggs in lieu of snakes, was at the waterfall, and other snake, snack and drink breaks were taken further along the walk, which continued on to Spot Mill Track and Cellar Track.
Lunch was held after the walk at Taminick Cellars, where wine was available for tasting, or purchase by the glass, or bottle, along with pizza for lunch, but I think we all brought our own lunch (I became aware of the pizzas being available after we arrived).
[Jeanette]