On Saturday March 2, despite the heat, twelve spirited walkers took on my Strathbogies Surprise #2. Which leads one to ask themselves – whenever is a movie sequel as good as the original? How many music artists have had an amazing debut album and then bombed with album number two? Would the same be said with the second of my walks in the Strathbogies State Forest?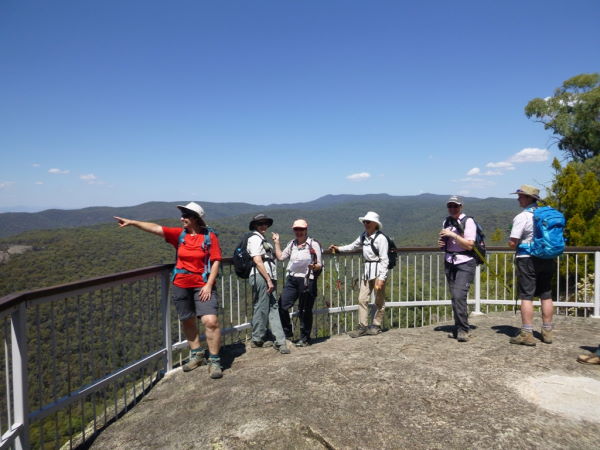 We were fortunate that the high temperatures didn't lead to a total fire ban day for this walk, and it was actually a few degrees cooler than Wangaratta. Most of the walkers were new to this area, and keen to experience what the forest has to offer.
On this walk we also welcomed back another Sandra, who had walked some years previously with the club. With today's group containing two Sandra's, a Shirley and a Sonia, I feel inclined to come up with some sort of tongue twister. Tempting.
Our first short return walk of less than 2kms was to an historic marker where a plane crashed in 1942. The two pilots were on their way from Deniliquin to Laverton and crashed at the site due to fog. Both men were killed. There is no wreckage of the Wirraway A20-265 amongst the forest anymore as it was all salvaged and put to good use.
The track involved passing a number of beehives, and Wally had one undesirable encounter. Upon returning to the cars we engaged in morning tea.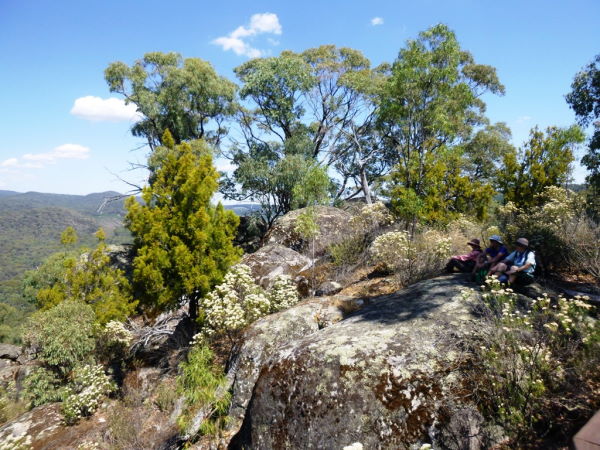 The second walk was the approximate 9km loop involving the Rocky Ned Track and Lookout. This walk along four-wheel drive tracks amongst the forest was most pleasant as it was still late morning. The road had a few ups and downs, which necessitated occasional breaks for the group.
At one junction Jeanette led a few hardy souls along a short cut involving a steep section that ran between the natural forest and pine plantation.
The rest of the group joined me to continue following the road. During this section the heat was beginning to be felt more, and shade was less available. It was a case of " less talk – more walk" to conserve energy.
We rejoined the other group a few minutes later, and a brief walk led us to the start of the Rocky Ned Lookout. Rocky Ned may have been named with some reference to Ned Kelly. My research however, did discover another Rocky Ned – a former rodeo horse who was a famous champion bucking bronco.
Lunch (and some hydrolytes for June who felt rejuvenated enough to be able to ride the Rocky Ned) was taken before a gentle climb of less than 1km to the lookout. The view from the top was great on such a clear day, with the forest and plantations clearly visible. My previous visit with Jeanette a couple of weeks earlier saw us greeted by a downpour of solid rain instead.
Once everyone had fulfilled their photo opportunities and sufficiently rested, we returned the way we came and headed for the cars.
At this point one carload of four walkers made the decision to return to Wangaratta. So we fare-welled Lesley, June, Shirley and Glenda, who I believe may have made a stop at Swanpool to run amuck before heading home.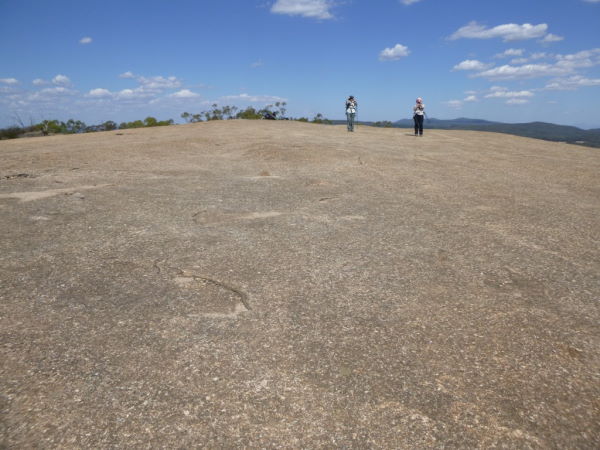 The remainder of the group then drove 12kms to the base of a track for a steep ascent to Mt Separation. Ann, who has been on my previous walks, no longer trusts my estimations or descriptions of my walks. However I feel that a chorus of "liar, liar pants on fire" was hardly necessary. The AWTGS (Australian Walking Track Grading System) is a useful classification system. However, on this occasion I preferred my own – VBD (very bloody difficult). And it was. Ann's comment liking it to childbirth was appropriate. Something akin to being difficult or unpleasant along the way, but the sheer joy at the end makes it all worthwhile.
Mt Separation may only be some 737 metres, but the view from the top of the huge flat granite rock is superb. Visibility was outstanding, and we were rewarded with 360 degrees views. From the forest and pine plantations to the north and east, and the Strathbogie Shire to the south and west, we were fortunate today. The Alps too could be seen in the distance. Sandra #1, who clearly was not yet exhausted, was photographed trying to hold, or was that dislodge, some enormous boulders before our departure.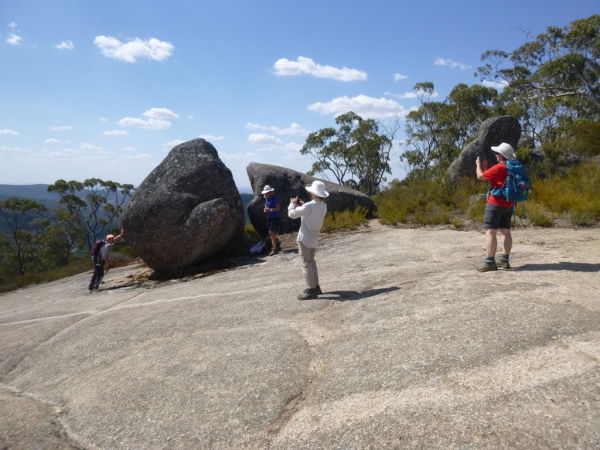 What awaited the group was the final descent back to the cars. Brigitte demonstrated conceivable mountain goat reincarnations the way she easily descended. Where's Wally? Well the way Wally made his way down he might well be part mythical Centaur.
On previous walks I have heard whisperings of "I think I can, I think I can", utterances of "just one step at a time" and mutterings of "come on, you can do this". This is the first time, courtesy of Sonia, I have heard, "I don't wanna break a leg, I don't wanna break a leg". And break a leg she did not. So her European holiday plans are still intact. After completing this return walk of about 3kms afternoon tea was welcomed by all.
The heat obviously affected the amount of wildlife seen today. Apart from one sole wallaby, spotted while driving along the edge of plantations, the usual kangaroos, shy echidnas and rare wombats were hiding along with most of the birds. Even the flies took the day off.
Thanks to everyone who attended the walk. Congratulations to those who braved the final leg without breaking one. Finally, if I don't mind saying myself, the sequel to the Strathbogies Forest walk was as equally as rewarding as the first.
Saturday the second someone spotted solicitous Sonia, sanguine Sandy, sheepish Shirley and second Sandy successfully scampering the surprisingly surmountable scenic Strathbogies.
Michael Braendler