This moonlit adventure meandered from Everton Station to the Murray to Mountains Rail Trail, and was attended by 33 walkers who tackled two slightly different routes.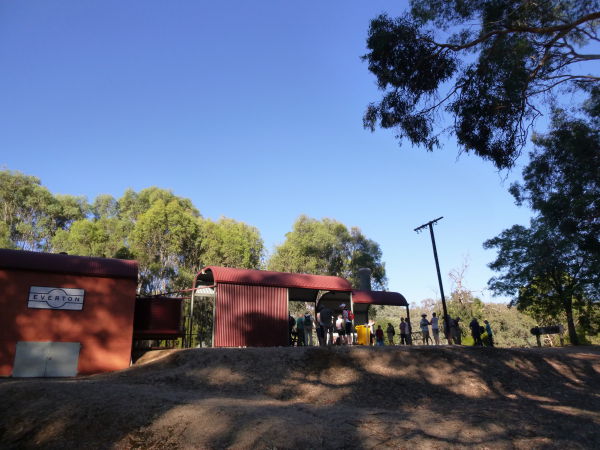 The distances planned for the two walks were 7kms and 10kms, and we all had an easy walk, with a night of perfect temperature, and a clear sky.
Setting off, both groups walked for three kilometres along the Rail Trail to Diffey Road, turning left to walk the 500m into Everton.
We had pre-ordered a range of fast food from the Everton Store, and the staff there delivered meals that were thoroughly enjoyed by all. We then relished drinks, ice creams etc at the Store as we watched a magnificent sunset.
It was then time to tackle the return trip, with a group of 18 leaving first to walk back up Diffey Road, and then turning toward Myrtleford on the rail trail, for an additional three kilometre return walk to Pender Lane.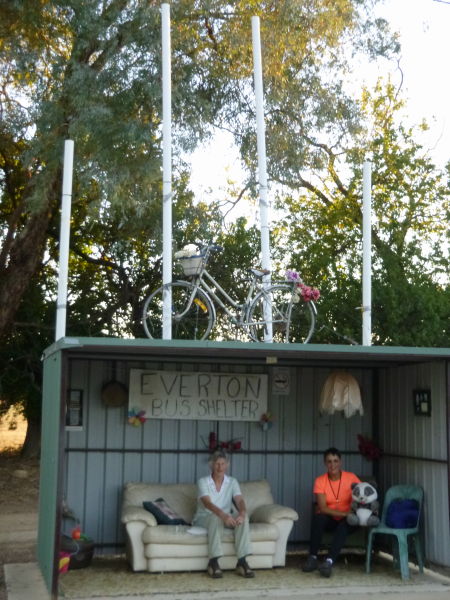 This group shone torches from the bridge into the Horseshoe Creek watercourse that was severely eroded as a result of the major flooding event on 13th December last year.
The second group (many of whom also inspected the Creek damage) retraced their steps back to Everton Station, arriving about 20 minutes before the larger group.
Watching the moon rise was magical, albeit later than expected, and the group reunited for Pat's welcome cuppa and biscuits, with the longer walkers arriving a little after 10pm.
[Glenda]
[The Everton Store will donate a percentage of the meal sales to Beyond Blue]
---
change of route : Strathbogie Surprise #2
Saturday, March 2nd
The route originally suggested for this walk will now change to the following,
A series of short walks on 4WD bush tracks in the Strathbogie State Forest. The first short walk of 2km visits the site of an historical air crash memorial.
A 9km loop comprises the second walk along Rocky Ned Track through the forest with fantastic views from the rocky ledge at the top.
The final walk is a 4km return walk to Mt Separation. For those who are prepared to brave the steep incline at the start, they will be rewarded with 360 degree views of the surrounding area on top of one huge granite rock.