The weather could be truly described as "simply perfect!" for this adventure, and the wildflowers were in abundance; snow daisies were in full flower and pink buds, the brilliant mauve trigger plants, fading, but still vibrant, old – gold bush peas, and stands of Derwent speedwell in their prime.
The walk began at the Horn Road, and proceeded along the Long Plain Track to the rustic sign post labelled To the Cath…… (Cathedral).
We turned left there, and then climbed a gentle 1.5 km route to Macs Point Track; this wound its way down through snow plain, and white mint bush shrubbery to the Rocky Point Track.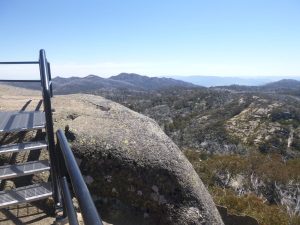 Then it was on to Long Plain Track, and back to the Horn Road, following Eurobin Creek, with Mt Dunn being climbed on the way.
All along, the tracks were swathes of the delicate pale vanilla lily, and Kathy Dobson, one of the many new walkers on the trip, spotted several cinnamon bell orchids. Above Mt Dunn a splendid circling green and black McClays swallowtail butterfly entertained the crowded summit.
Finally, on the shore of Lake Catani, Pat faced the considerable challenge of providing afternoon tea for 29 walkers, with her usual grace and equanimity.
---
Coming Events
Saturday, 19th January
Beechworth Historic Area to Woolshed Falls
Cecily, 0490 024 471
An easy to medium return walk of approx 11km on bush tracks from the Beechworth Historic Park to Woolshed Falls, via the Cascades. A narrow and steep descent near the start down to a track following the creek to the Falls and return.
---
Friday, 1st February to Sunday, 3rd February
Falls Creek weekend of Huts
Kerri, 0488 362 812 or 5725 1480
Accommodation is booked at Falls Creek. Cost pp per night dependent on numbers, but anticipated to be up to $45.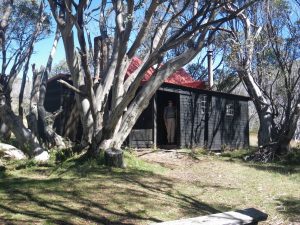 A weekend in the high country staying at the Myrtleford Ski Lodge. Bob has put together this weekend of walks to huts in the High Country.
A mix of easy, easy/medium, medium and medium/hard walks, including from Watchbed Creek to Johnston Hut, Edmondson Hut and Mt Nelse West, and the ruins of Battys Hut. AWTGS 3
Further walks to Cope Hut, Wilkinson Hut ruins, Wallaces Hut and Langfords Gap, Fitzgerald and Kellys' Huts.
BYO Friday night dinner, breakfasts, lunches, snacks, wine etc.
A shared dinner on Saturday night, usually about $10pp.