We had perfect weather (25c, and a nice easterly breeze) for this 12km adventure, and having left Wangaratta at about 8.35am, we were on the trail by 9.45am.
The small group took the access track from near the car parking area, and climbed up to a t-junction where we needed to swing left to pick up the ridgeline walking track.
We had morning tea at about the 2km mark, with some nice views to the left of the track, over-looking the valley of Fell Timber Creek. We then followed the walking track through to a stile (one of several on this route) that leads immediately onto a roadway.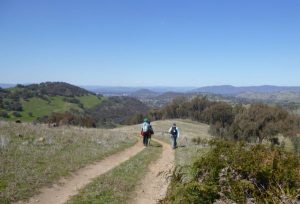 Turning right here, we followed the roadway for a few hundred metres to a rotary gateway. Passing through this gate, we began a relentless climb to the summit of "One Tree Hill" (also shown as Klinge Hill on some maps) where we had lunch amidst some great views.
From here we skirted around, and down, to the north, passing through a rotary gate, and then followed a line of timber back the roadway referred to above. Turning left at the roadway, we now crossed over a small creek, and then turned right for a few hundred metres, before cutting across country to pick up the return route.
We were back in Wangaratta at about 3pm, having enjoyed an excellent day in the bush.
[Chris]
---
Our latest newsletter is now available – see the Main Menu.