To declare that some walkers of the WRBC are a hardy bunch is a bit of an understatement. Despite a bleak weather forecast of 11 degrees, rain, possible hail and snow above 500m, a handful of walkers joined me on the walk to Mt Samaria.
Jeanette was particularly eager, as she had just had her feet serviced at the foot centre, and needed a long walk with hills to test them out.
For the record, I was thinking it would be nicer to spend the day on the couch, with the Sunday paper and the heater set to a comfortable twenty two degrees, wearing my moccies.
After confirming that everyone had the appropriate wet weather gear, snorkels and flippers, our departure from Rotary Park at 8am was made in record time with such a small group.
Arriving at Mount Samaria State Park we encountered a wet and slippery Mt Samaria Road in places. We promptly arrived at our parking destination – the kiln ruins, information board and most importantly, toilet.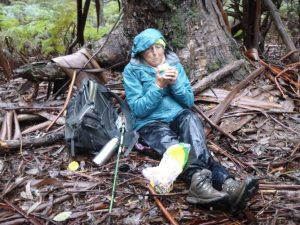 Our first part of the route was along Lightning Track. We easily crossed one small stream at the start, and continued walking uphill. A rocky outcrop, some 100m above our starting point, was a good place to catch our breath.
Lightning Track, which has many sections of vegetation growing over the track, then meets Mt Samaria Track.
Expecting a turnoff, which at first was obscured, we soon found our correct way towards Butchers Track, a vehicle road.
From here it was a short straightforward walk along the road, until we turned right onto the Tramline Track. Our first point of interest was a few hundred metres along, at the braking station. This provided a suitable place for morning tea, although I felt some were mourning their tea break, as the weather was yet to show signs of improvement.
After this break we retraced our steps back to the Mt Samaria Track junction. The turnoff point, which was not clearly visible earlier, was now more evident coming from the other direction.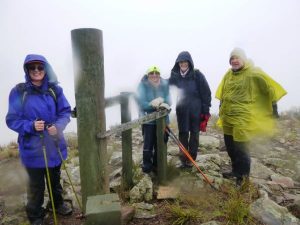 A little landscaping of surrounding branches now made the track more visible for future walkers. We then continued along Mt Samaria track for a couple of kilometres before making the final steep ascent to the summit.
Mt Samaria summit is 953m above sea level, and on a clear day it is said you can see Lake Mokoan. Folklore possibly, but we will never know as visibility today was poor, and our views today were shrouded in fog. The rain began to increase, and it was decided to make a hasty retreat down the link track, and head to the Wild Dog Creek Falls camping area for lunch.
Upon arriving at the camp ground, favourable comments were forthcoming about the area, and the walking trails in this park. It was a pleasure to have Kate and Graham join us today too, as usually they are walking some magnificent trails in other parts of the world.
Once lunch was consumed, and the Allen's snakes handed out as further incentive to keep going, it was time to depart for the Falls.
Wild Dog Creek Falls are a short distance from the camp ground, and with the most recent rain, they were flowing moderately. In the distance the sun almost, but unconvincingly, teased us with the prospect of a little mid-afternoon warmth. The viewing platform provided views of the Falls and sights to the south east of the state park.
After taking in the sights, we retraced out steps back towards the camp ground, but then proceeded a short distance where we met up with the Mt Samaria Road we drove in on.

The cars were soon reached, and the usual and always welcomed cuppa and cookies provided by Pat was heartily consumed.
The walk of 14.5km was completed in five and a half hours, and although it rained on our parade, it didn't dampen our enjoyment of a nice nature trail in a park in our region. Except when you realise that your Gore-Tex jacket has lost its Durable Water Repellency (DWR) and is now absorbing more water than repelling it. Who knew?
[Michael]
---
To make sure that everyone involved (including the readers of this report) paid attention– here is a quick quiz regarding this walk venue.
Mt Samaria quiz

1. During the 1920's the area became known for
a) gold mining
b) a naturist colony (nudists)
c) a large scale timber industry
+
2. An area of about 7000ha was declared a State Park in
a) 1929
b) 1979
c) 1949
+
3. During the 1940's Europeans squatted in the area
a) for grazing purposes
b) because they ended up lost
c) because long drop toilets were not yet common
+
4. The elevation of Mount Samaria is about
a) 1953m
b) 953m
c) 9.53m
+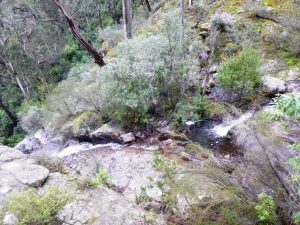 5. At Wild Dog Creek Falls it is possible to see
a) a seasonal waterfall
b) wild dogs falling
c) Lake Mokoan
+
6. The name 'Samaria' is
a) a popular name for dogs
b) a type of rice dish
c) derived from an ancient city in the middle east
+
7. The 'Good Samaritan'
a) is a biblical character and story
b) completely fictitious
c) lives in Swanpool
+
8. The literal meaning of Samaria is
a) untamed land or un-worked land
b) watch tower or watch mountain
c) man of the mountain or hill or mound or pile
+
9. From the summit of Mt Samaria it is possible to see
a) the sea
b) Lake Mokoan
c) Lake Nillhacootie
+
10. Walking in the bush the following wildlife may be noted
a) kangaroos, wallabies and rosellas
b) yowies, bunyips and drop bears
c) 3 French hens, 2 Turtle Doves and a Partridge in a pear tree