The last day of our very successful week away dawned grey and cold, but soon blossomed into a beautiful sunny day, with a light breeze.
The venue for today was a 12km loop in the environs of Mount Richmond, an isolated volcanic peak to the north-west of Portland, and part of an inland section of the GSWW.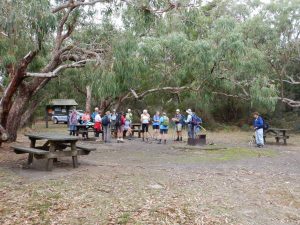 The Mount is a small peak, of about 230m, and consists of a base of 'tuff' (volcanic ash) with an overlay of wind-blown sand. Although small, the area hosts an interesting array of vegetation, including an excellent display of wildflowers in springtime.
Our 12km adventure set off from near the National Park boundary, and from here the 18 of us headed via a twisty track to the main picnic area for morning tea.
From here we tackled the Ocean View Loop, and then swung around to the east to pick up a section of Noels Track.
Lunch was enjoyed amongst ferns and grasstrees, and we then joined the West Walk before returning to the Park boundary and our cars.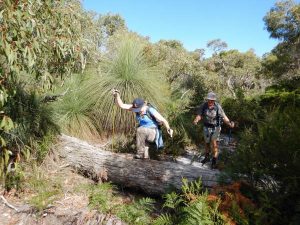 Here we found that our GPS devices were recording a trip of just over 13km, not the 12km we planned, but not too far from our expectations.
A separate group of nine walkers completed the Ocean View Track, the West Loop and Noels Track, having initially driven to the main picnic area.
Another very enjoyable day with wildlife sightings including a yellow-bellied black snake, a tiger snake, a koala bear, rosellas, lorikeets, kangaroos, wallabies and a few close encounters with leeches.
Tomorrow, we head for home, and a well-earned rest.