Our March 3rd walk had 23 participants including two from Corowa, and two from Beechworth.
Nail Can Hill is an isolated piece of high ground immediately to the west of Albury, and includes many popular mountain bike trails, as well Monument Hill that is clearly visible from Dean Street.
All participants met at Hovell Tree Park, where the car shuffle was worked out, so as to reach the start of the walk.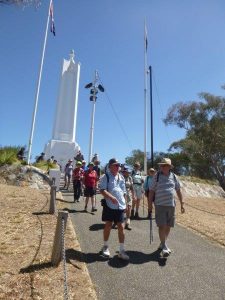 We then started walking at Centaur Road, and followed the Ridge Track through to Monument Hill, where we enjoyed lunch at the picnic tables.
We had views most of the way along the walk, and of course from Monument Hill, where we look straight down Dean Street, Albury.
After lunch we took the steep path down to the Botanical Gardens, and popped into the Children's Garden there (no playgrounds like this when I was a kid!).
Then it was back to Hovell Tree Park for Pats' afternoon tea.
[Jeanette]
---
[Hume and Hovell arrived at what we now call the Murray River in November 1814; their party carved "Hume River" onto what we now call the Hovell Tree at "The Crossing Place" (Albury).
However, in 1830 Charles Sturt reached the same river, after travelling down the Murrumbidgee, and named it the Murray River in honour of the then British Secretary of State for War and the Colonies, Sir George Murray, not realising it was the same river that Hume and Hovell had encountered further upstream.]