This weekend trip was a great success with perfect weather, superb walks organisation and outstanding accommodation.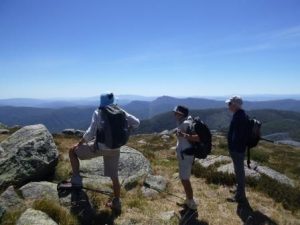 The Benalla Ski Lodge would have to be almost luxurious, and with 38 walkers, we all comfortably fitted in; the lodge supervisors (from Benalla) described us as "dream lodgers"
The walks were all quite challenging, but the Little Buller walk on Sunday challenged us in more ways than one!!
On Saturday, 29 people completed about 16kms to Mt Stirling and back, on a hard track, which was often very rocky and slippery but with magnificent views of course.
Another group covered about 11kms on the same route, but stopped at the water treatment plant.
On Sunday – after a memorable Saturday party night celebrating Bob, Deb and Adrian's 217 years – 32 members headed off towards Little Buller, but poor signage meant that the nearby pleasant medium level Nature Trail, and summit of Mt Buller became the substitute walk. Only a few adventurers managed to complete the much harder Little Buller ascent.
---
Coming events
Saturday, 3rd March.
Nail Can Hill, Albury.
Jeanette, 0417 546 974
An easy to medium walk of approx 10km on gravel roads and bush tracks. following the Ridge Track in the Nail Can Hill Reserve, through to Monument Hill.
Some steep sections on this walk, but with great views to be enjoyed.
---
Sunday, 18th March.
Dickson Falls and The Back Wall, Mt Buffalo.
Michael, 0447 617 880
Rescheduled from December 2017, when the road was closed.
A medium walk of approx 15km on bush tracks from near Cresta Valley to Dickson Falls. We pass through the Giants Playground, before reaching the southernmost point on the Plateau, with stunning views from the Back Wall.
---
Wednesday, 21st March.
Buckland Gap to Stanley.
Lesley, 5728 1740
An easy/medium walk of approx 7km along gravel roads, from Buckland Gap to the Murmungee Lookout, along Lady Newton Drive, then onto Bates Dam, where there is evidence of early mining activity, and onto Stanley via Clarkes Corner picnic area.
After a steady climb to Murmungee Lookout, great views are to be had over the floodplains of the Ovens and King Rivers, and to Mt Buffalo.