This is an interesting variation on a tried-and-true venue, involving a loop down to Moonlight Track via Casuarina Track on the way to Mount Glenrowan, but it was to prove more interesting than we first thought.
On a very cool (and wet) morning, we met at Rotary Park at 8.30am, organised car pooling, headed off to Taminick Gap, and started walking at about 8.50am, despite the drizzly conditions.
There were 16 of us on this adventure, and we split into two groups, one tackling the standard route to Mount Glenrowan (via Chick Hill), the other tackling Casuarina Track; the distance planned for this latter option being about 14 kilometres.
Setting off, we walked along Ridge Track, to the Casuarina Track turn-off, where the two groups temporarily parted company.
Heading down Casuarina Track there was evidence of track maintenance everywhere, so instead to taking the usual off-track descent down to Moonlight Track, we stayed on Casuarina until it met up with Moonlight Track (a much easier option than the off track route).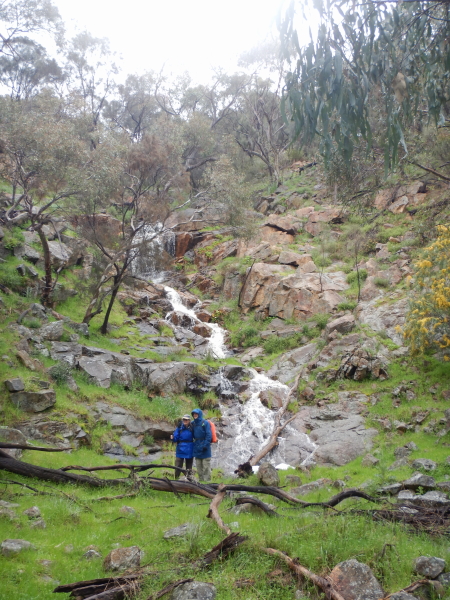 A few kilometres on this scenic pathway took us to a collection of rocks, where we had a quick morning tea (too cold for loitering, but it had stopped raining by now).
Continuing on, we enjoyed seeing two seasonal waterfalls in their full glory – very photogenic. We also had to perform a few spirited (elegant?) water crossings – the catchment is well and truly soaked.
We now followed Moonlight Track to where it swings to the east, and starts a steep climb up to Ridge Track.
Having made it to Ridge Track, we followed this through to the environs of Morgans Lookout (Mount Glenrowan) where we enjoyed a scenic lunch in a sheltered location. The views were restricted by the low cloud over the high country, but it was still interesting to see hundreds of water patches on the flood plain.
The two groups re-met near here, and we then ambled back to the cars via Ridge Track, passing the entrance to Casuarina Track on the way.
After a leisurely afternoon tea at the car park, we headed back to town, and were home at 3.30pm.
[Chris M]