Chinese Prayer Stones
The mystery of the rock cairns in the far reaches of the Middle Creek high up in the hills between Greta and Tolmie, were the cause of the Warby Range Bushwalkers venture on 9th December.
The previous attempt to take a group there became unstuck when, several months earlier, Geoff Dinning and Adrian Twitt were reconnoitring the proposed walk and became disoriented in fog, leading to an unplanned two day venture in bitter weather. That expedition solicited rescuers arriving by plane, foot and road. We hoped the same would not be the case on this occasion.
This time, heat seemed to be the threat. However the 38 deg temperatures in Wangaratta in the lead-up to the expedition, did not stop twelve walkers registering.
As it transpired, the day was significantly cooler, with rain encountered on the trip into the hills, and only 15 deg when we reached the destination.
The rain cleared for our mission, the sun came out, and we basked in 22 degrees by midday, only to encounter more rain on the return trip back to Wangaratta.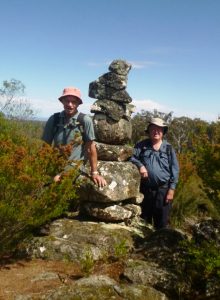 Having parked our cars, we strolled through tall trees along a forest track before reaching the point of ascent to our destination.
The sharp roadside incline required an abseiling exercise, with rope thick enough to tie up an ocean going liner, provided by leader Geoff Dinning for the purpose.
Soon we were clambering up the steep, thickly vegetated and rocky slope beyond. Ignoring the scratches from the shrubbery, we admired the beauty of the many wild flowers, the rock isotomes blooming in profusion.
Eventually we emerged into an open area near the hilltop, where seven rock cairns stand, encrusted with moss and lichens. Archaeologists suggest that they are Chinese Buddhist prayer stones, erected perhaps mid nineteenth century when Chinese gold diggers scoured this remote hill country.
Following a cautious retreat, and return to the cars, we travelled to the Myrrhee Reserve for lunch in comfort (toilets, soap and paper towels!) on large picnic tables under shelter.
Then we drove on to the Dinning's bush retreat at Greta South, where we had a relaxing afternoon tea in superb surroundings.
It was a great way to finish a very satisfying, but quite strenuous day.
We are in debt to Geoff Dinning for his preparation and leadership.
[Adrian Twitt]
---
Coming Events
Sunday, 6th January
Mt Buffalo, Long Plain and Mt Dunn
Jan, 0427 224 484
An easy to medium walk of approx 10k following the Long Plain Track from The Horn Road towards The Cathedral, and a possible side trip to Mt Dunn.
More wildflowers and bog plants in summer than on the Big Walk.
This walk is mostly on bush tracks, and some management vehicle tracks.