We began Stage Three of our Warby Journey at Taminick Gap Road with a climb towards the telecommunications towers. Stepping off the bitumen, and onto the dirt, we then followed the Ridge Track to the turnoff for Chick Hill, and enjoyed morning tea at this point (that is, Chick Hill). There were plenty of rocks and fallen trees to sit down for morning tea, but the views were a bit obscured by the surrounding forest.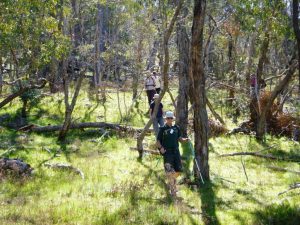 After morning tea, we retraced our steps to the Ridge Track, and continued to Morgans Lookout at Mt Glenrowan.
From here, we had clear views to the snowcapped alps, to enjoy with lunch, before heading into the bush along the ridge, and then up and down some gullies before reaching Morrisons Winery.
Our President (Glenda) had organised cheese and fruit platters for members enjoyment, following the walk, which went down really well with the reds, whites, rose and, why not try a muscat on ice, at Morrisons Winery. Great hospitality at this winery.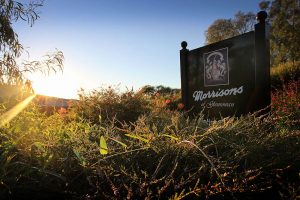 Our group this day consisted of seven casual walkers, and two new members. Overall I think the walk was between 8 and 9 kilometres; we saw lots of kangaroos and a wallaby or two, and it was a great day out.
Andy you will need to do this one again.
[Jeanette]
---
Coming Events
Thursday, 27th September
McFarlanes Hill, Wodonga
Chris, 0418 503 802
A medium walk of approx 10km at McFarlanes Hill, Wodonga.
McFarlanes Hill forms part of an isolated block of high country to the west of Wodonga, and along with other nearby hill country provides about 10km of walking tracks.
Great views of the urban area, the Murray River and the Alpine Ranges.
The walking will be mostly on ridgetops, with a side trip to the adjoining Swainsonia Reserve