For the Middle Creek Valley and Ridge Top Walk, near Greta South, last Sunday, we had 20 participants for a great walk that included the "Kelly Cave".
This was a short walk of approximately 10 kilometres, mostly in the bush and off track through private land.
It was a fine day but cold, with temperature averaging about 11 degrees.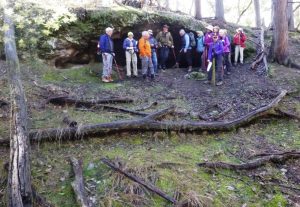 After making our way to an overhanging cave, which was possibly used by the Kelly Gang back in the late 1870's, we had a long climb to the top of the ridge, where we had morning tea with great views to the Middle Creek and Ryan's Creek valleys.
From here, we continued further to a gently sloping area for lunch, and then followed another track before a steep descent back into the valley.
As an added bonus, our guest leader, and local expert, Adrian educated us with some good basic bush and navigation skills during the walk.
---
Coming Events
Wednesday, 22nd August
Ovens River Walk, Wangaratta
Andy, 5721 7922
This is an easy walk of approx 7km along the Ovens River to check out the new path developments, and re-vegetation work.
We will start near the end of Phillipson Street, survey the new tracks at Mullinmur Billabongs, and then follow the Ovens back into town via North Beaches, and the Bullawah Trail, before heading up the King to observe the superb Kaluna area.

Saturday, 25th August
Killawarra to Ryan's Gap; the first part of Warby's North to South.
Jeanette, 0417 546 974
This is the initial leg of walking the length of the Warby Range, one of our favourite walks, and one that we complete every few years.
This section is a medium walk of approx 13km, starting at the northern end of the Warby's at Killawarra, following forest roads and bush tracks to reach Ryans Lookout.