This walk was attended by nine trekkers, including three visitors joining us for the day.
Starting at Tawonga Gap, the group were delighted by the outstanding panorama over the Kiewa Valley, and our special mountains.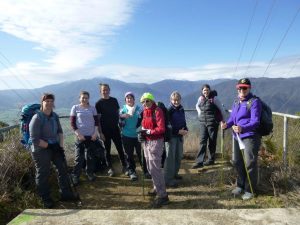 This road linking the Kiewa and Ovens Valleys was built in 1895-6 by contractors using pick and shovel labour, and their wheelbarrows; it was a struggle, but the project was completed on time.
Setting off, the views only improved along the walk as we gained elevation.
Snow was in abundance at Mt Bogong, and the surrounding high country, while patches of snow could be clearly seen on Mt Buffalo.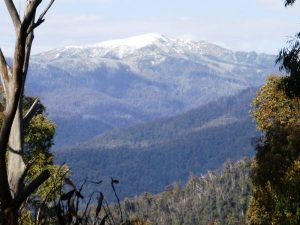 We enjoyed lunch at Flat Rock, and the walk was then completed in good time.
The usual much appreciated welcome cuppa was enjoyed at the end of a hard, but enjoyable, 19km walk.
---
Coming Events
Sunday, 12th August.
Middle Creek Valley and Ridge Top Walk near Greta.
Jeanette, 0417 546 974
We have a guest leader for this medium walk of approx 9km, mostly on bush tracks.
This walk includes a climb through native bush of about 1km, and a possible creek crossing.
Taking in Kelly Cave, and a walk along the ridge, with limited viewing points, but with views to the Middle Creek and Ryan's Creek valleys.
BYO compass for a chance to learn some navigation, and good bush skills with our guest walks leader.
A similar but different walk to the last one we did in this area.
Wednesday, 22nd August.
Ovens River Walk, Wangaratta.
Andy, 5721 7922
An easy walk of approx 7km along the Ovens River to check out the new path developments and revegetation work.
We will start near the end of Phillipson Street, survey the new tracks at Mullinmur Billabongs, and then follow the Ovens back into town via North Beaches, and the Bullawah Trail, before heading up the King to observe the superb Kaluna area.