Our first day on the GSWW went well, despite the breezy, and wet, conditions.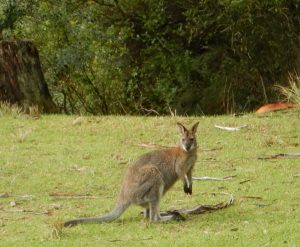 Instead of tackling the coastal walk (Cape Bridgewater) that we had planned, we opted for the Glenelg River Gorge Section (actually programmed in for Thursday).
For all three groups (two on the 16km walk, 15 on the 10km walk) walking commenced at 9.30, with raincoats at the ready.
The two groups on the longer walk met about half-way, and exchanged car keys at Pattersons Camp (this avoided an initial car shuffle), having enjoyed lunch at the same place.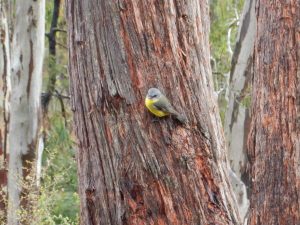 The route of the GSWW in these sections follows the Glenelg quite closely, and we all enjoyed excellent views of this great waterway.
Wildlife seen included kangaroos, emus, gang-gang cockatoos and the yellow-breasted robin.
Today (Tuesday) we will be tackling the walk planned for yesterday (that is, the 16km route along the perimeter of Cape Bridgewater.
We look forward to a very interesting day, with reasonably sunny conditions, 18C and a 10km/hr breeze.