On Saturday, February 3rd, 28 souls (including three guests and Ted, the club canine mascot), assembled at Mayday Hills, Beechworth, for the Tree Walk.
We formed three groups, with sub-leaders Cecily, Jeanette and June, each to follow the course of the three loops separately.
Everyone carried the sheet prepared by the Beechworth Treescape Group, which identified by number the 144 significant trees, exotic and indigenous.
As the numbers on the trees were sometimes obscured or missing, and the route was not as clear in the parkland as on the sheet, and there were many unlisted trees as well, a friendly challenge developed to find the way through the acres of parklands and between the old buildings.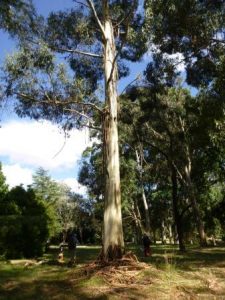 Many trees are listed on the National Trust's Register of Significant Trees, for their majesty, rarity, beauty, species example.
The gardens were started in the 1860's, and were gradually extended to become reputedly the best tree settings in the state, outside of the Botanical Gardens.
The silent, empty, deteriorating old buildings of the institution provided added interest as we considered the social history of this place.
The story of the Beechworth Lunatic Asylum, which closed in 1998 as the Mayday Hills Mental Hospital, (including the development of the Ornamental garden) is well told by Douglas Craig in "The Lion of Beechworth" (2000) in the Reference Section, Indigo Shire Library, Beechworth.
Once again, we appreciated the refreshments provided by Pat, as we sat in the shade of Tree No.1 – Quercus acutissima (Bristle-tipped Oak).
The only wildlife observed were flocks of parrots, including the somewhat elusive Gang Gang Cockatoo.
[June Brown]
---
[Details, and maps, of the walks completed here can be viewed at explorebeechworth.com.au – see link below]
---
Upcoming Walks
Friday 16th to Sunday 18th February, Mt Buller weekend
Glenda, 5721 5114, or 0499 535 202
Adrian has organised this weekend at Mt Buller with easy, medium and possibly hard walks.
Accommodation at Benalla Ski Club Lodge ( www.benallaskiclub.com.au); a 13 bedroom/49 bed lodge with an ensuite bathroom to each bedroom, and no bunk beds.
BYO meal Friday, and a shared meal (cost TBA) on Saturday night.
Register early to enable calculation of accommodation (b/w $80-$110 pp for two night stay). Payment due by 24th January.
Saturday's walk from Mt Buller to Mt Stirling is expected to be a highlight (both a medium distance and longer hike offered).
Sunday walks will offer a selection from Little Buller; Buller summit walk; village walk.
---
Saturday, 3rd March. Nail Can Hill, Albury.
Jeanette, 0417 546 974
An easy to medium walk of approx 10km on gravel roads and bush tracks, following the Ridge Track in the Nail Can Hill Reserve through to Monument Hill.
There are some steep sections on this walk, but with great views as a reward for the effort.